A Walk Through Spring Lake
The Sculptures of Seward Johnson
September 17, 2022 through January 31, 2023

Event Home  |  The Sculptures  |  Self-Guided Tours &  |  Docent-Led Tours | Events  |  Photo Contest  |  Sponsors  |  Links  |  Parking & Directions
About the Exhibit
Spring Lake is hosting a free outdoor art exhibit this fall featuring the works of world-renowned sculptor and New Jersey native, Seward Johnson. Sixteen of Johnson's life-like bronze sculptures will be on display throughout Spring Lake's downtown from September 17 through January 31.
A self-guided tour begins at the Spring Lake Library and meanders through the downtown business district.
The Spring Lake Business Improvement District will unveil the exhibit on September 17. Events and activities include self-guided tours, photo contests, school activities, and shows at the Community Theatre. If interested in a private group tour, contact the Spring Lake BID at 732-449-0037.
About The Seward Johnson Atelier
Building on the legacy of the Johnson Atelier Technical Institute and School of Sculpture, The Seward Johnson Atelier was created to promote the appreciation of, and education about, sculpture and public art through the creation, maintenance, sales and public placement of Seward Johnson's sculptures. The Seward Johnson Atelier is the exclusive owner of copyright of Seward Johnson's sculpture and is committed to educating the public about his artistic legacy. The Seward Johnson Atelier has received a gift of a collection of Seward Johnson sculpture and will continue to produce and sell sculptures with the proceeds of sales, exhibitions and licensing being devoted to sustaining its exhibition and educational programs. We provide training for artists and skilled crafts persons in modeling, enlarging, casting, fabrication, paint and patina, and may offer those production and conservation services for a fee to sculptors and cultural institutions with an emphasis on promoting public art.
About the Artist: Seward Johnson (April 16, 1930 – March 10, 2020)

Seward Johnson's sculptures have been turning heads and causing conversation for nearly fifty years. More than four hundred of Johnson's life-size cast bronze figures have been featured in private collections and museums around the world. Most recognizable are the three main series: Celebrating the Familiar, Beyond the Frame, inspired by the Impressionist masterworks, and Icons Revisited. Johnson has enlarged a select group of sculptures into monumental scale for placement in communities. To date these twenty to thirty-foot tall presences have been on exhibition, or been purchased for permanent display, in various cities in the United State and overseas, two of the most notable being Embracing Peace in Times Square, Rome and Normandy, France, and the dramatic Forever Marilyn in Chicago, Palm Springs, Australia and China. Seward Johnson's impact on the world of public sculpture has altered and enhanced the landscape as well as the dialogue about art in the public realm
Sculptures
View the entire exhibit with descriptions here.
Self-guided Tour
Docent-led Tours
Docent-led tours are available by appointment Mondays, Tuesday and Fridays from 9 am until 2 pm. Must be a minimum of 5 registered for a tour.  If you would like to schedule a tour, please contact Dawn at info@visitspringlake.com or call 732-449-0037
Events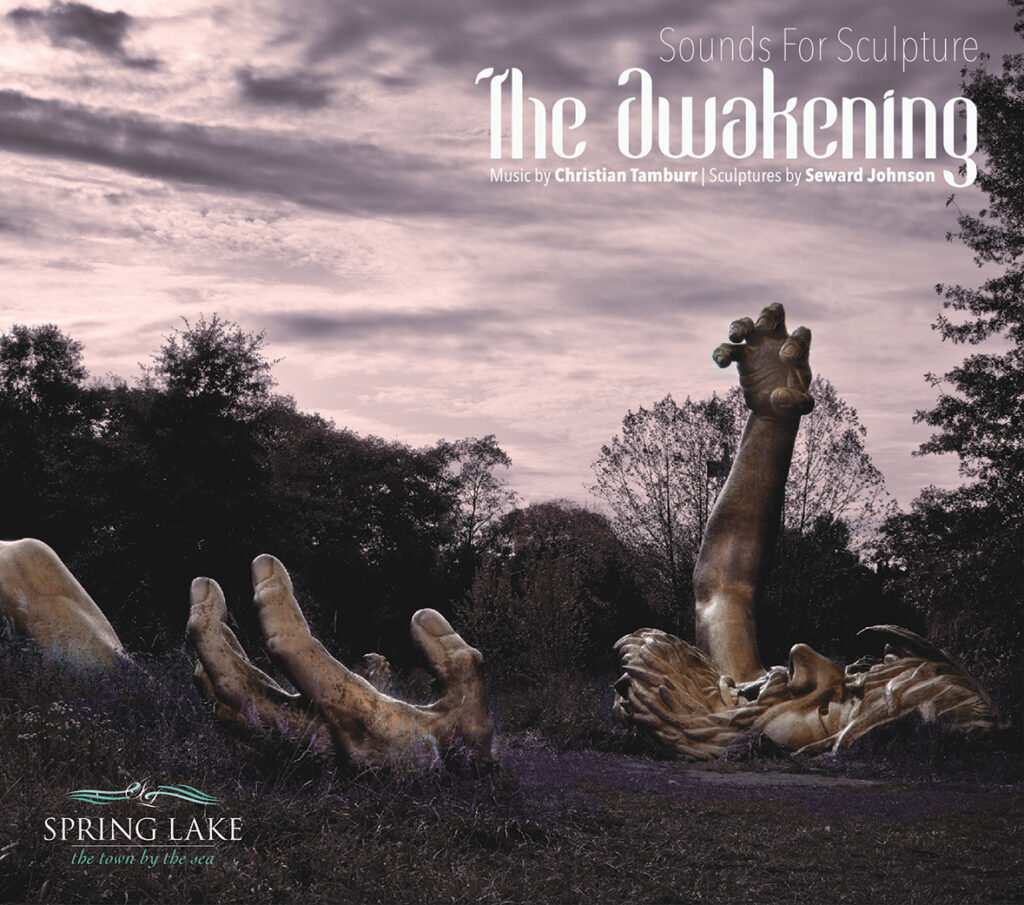 Concert Premier ~ Sept 30, 2022, 7:30 pm ~ Spring Lake Community Theatre
Sounds For Sculpture "The Awakening"
featuring The Christian Tamburr Quintet with special guest Dominick Farinacci
The Sounds For Sculpture project is a dynamic multi-sensory performance featuring original musical compositions by internationally renowned jazz vibraphonist and composer Christian Tamburr. The music is inspired by a selection of iconic bronze sculptures by iconic sculptor, Seward Johnson. The project premiered at Lincoln Center NY in 2019 and comes to Spring Lake featuring with an ensemble of some of top names in jazz including trumpeter – Dominick Farinacci, pianist – Scott Giddens, bassist – Griffin Fink, drummer – Carmen Intorre Jr. , and led by vibraphonist – Christian Tamburr.
Click here for related events to this town-wide exhibit.
Photo Contest
We are looking for the best and most unique photos of these sculptures taken by our visitors. Bring along your camera or phone and enter the photo contest. Post your photos at #springlakesculptures. One photo will be profiled each month on our website.
Our Sponsors
Platinum Sponsors ~ $5,000
Jersey Mike's
Nicola Musso Foundation
Megan Sheetz & Trevor Price
Gold Sponsors ~ $2,500
Circle BMW                                                                                                                                                                                                                                      Greater Spring Lake Chamber of Commerce
Hackensack Meridian
Manasquan Bank
Marisa & Ale Corporation
RE/MAX Revolution Realty
Silver Sponsors ~ $1,000
Chateau Inn & sUITES
Richard & Linda Clayton
Joseph & Deborah Curto
The Irish Centre
Press Communications
The Woman's Club of Spring Lake
Bronze Sponsors ~ $500
Diane Turton Realtors
Wayne & Carol Patterson
Timothy & Charlene Peterson
James & Theresa Turner
Vincent Gopal Civic Association
Ward Wight Sotheby's International
Syd Whalley
Links

Spring Lake Links
Spring Lake Events
Seward Johnson Atelier
Grounds for Sculpture
Parking & Directions
Spring Lake has plenty of free on-street parking.  Visit our parking and directions page.
"The sculptures contained herein are © 2005 or earlier, The Seward Johnson Atelier, Inc., except where otherwise noted, and the photographs are used with permission of The Seward Johnson Atelier, Inc. All rights reserved."